So we set out on our first adventure to Vitambi Springs Resort. We were going with the intention of storing our RV there since they had great rates on storage. We also wanted to make it a nice weekend of gay camping! We were looking forward to this ever since we swung by the weekend we purchased our RV to checkout the storage area.
It was a quick hour and a half drive from Miami to Vitambi Springs. When we got there it was getting to be dinner-time and the sun was fading fast. We pulled up to the lodge, where you do registration. We saw Martin's familiar face and we checked in for the weekend. While Martin was checking us in, I couldn't help but take a picture of the general store. It had your usual camping/RV supplies and of course warm-to-the-touch lube and fleet enemas! Not to mention they sold locally produced honey too. We haven't tried it yet. They didn't have any of the regular RV sites since we booked last minute and they have a handful of full-hookup sites, but we had the overflow (kind of like what we had in Sawmill). As we walked out of the lodge towards our rig, I see a friendly guy who was a little tipsy (who would later turn out to be Steven's friend Frank) say that we were cute and flirted with us for a little bit. Then all of a sudden, like lightning striking down and jolting the earth I hear, "KELVIS IS THAT YOU?!?!" My friend Steven, who I always see at random times in my life in Key West was standing in front of me. We laughed at the pure randomness of the universe and decided to meet up with them at the lodge for dinner and then drinks at the bar. Steven and I would joke around all weekend about how we always find each other randomly through the years! It's always a treat when I run into him.
We were prepared for the overflow spot with no sewer hookups as we headed back to our site. What we were not prepared for were the B-U-G-S. We were already veterans at setting up camp, but we had never experienced all these bugs. They came at us in swarms. Love bugs, mosquitos, basically anything that could buzz or bite. We were miserable. Emotions were high and the sun had started to set. The darker it got, the more bugs came out! We finally set up camp, plugged everything in and spent about 20 minutes sweeping most of the bugs out of the inside of the rig.
We were in no mood to prepare dinner at the RV, so we decided to check out the lodge where they were still serving dinner until 830pm. We took our bikes over to the lodge which was nice short bug-free ride. The lodge building is so nice. It really does feel like you are on safari in Africa. The food hall area is immense and has a feeling of grandeur. When we got to the mess hall, they were almost closing. We saw our friends Steven and Frank, and dashed to put in our dinner order. We got our food and sat next to the boys for some catching up.
It was a leather weekend sponsored by the South Florida Minotaurs, so I had no idea what to except. After dinner, we headed to the bar which was in the adjoining room. The bar has a very cool feeling to it. It feels like you are at home with a bunch of your friends in the middle of an african safari, with air conditioning. Off the bar they have a table where you can play giant jenga, and they have a pool table too, more on that pool table later. Off to the back they have a tv with a Nintendo Wii connected to it ( I ❤️❤️❤️ video games). But the focus of the room is the bar and of course the drinks. And so we drank!
The clientele would be what you would expect for a leather bar, and we quickly made friends with the bartender Michael. It turns out Michael and I have a mutual friend who is my best friend since I was in the third grade. What a small world! After a couple of drinks and meeting our new friends Johnnie, Alex, Brian, James and Michael, Frank took us to the Pump Room to show us newbies around.
The Pump room is exactly what you would imagine it is. It's a little play room for the adults to partake in. They have a throne, and several holes in the dark walls that I couldn't figure out what they were used for??! After hanging out there for a bit we called it a night because we were all exhausted and a little drunk. Frank and Steven were staying in the Barracks which is a dormitory style accommodation for those people who don't have RVs. They also have tent sites, cabins, and even multiple bedroom houses for rent. They also have an Inn towards the entrance of the campground. As for RV's they have five hook-up ready sites as of this writing, and the overflow spot that we were on that only has power and water from a hose that snakes half way across to a shed area in the back of the property.
So we woke up Saturday morning ready to get breakfast and mimosas going, and of course it wouldn't be the RV life we love without a little bit of drama. We woke up to no WATER! Manny went out to check on the hose that we extended all the way from the gardening shack. Apparently the hose that we attached to to extend the water connection from the shack had a huge tear in it and water was leaking everywhere. Someone had turned it off and we were without water! No bueno!!! We tried bandaging the gash with a plastic bag but it didn't work out that well. We resolved to fill the fresh water tank, turn the water pump on and use that method while we told Martin at the front desk that we needed a new hose. We made lemons into lemonade and practiced some modified boon-docking.
We did head back to the lodge and told Martin, but he was so busy that day that he never got around to sending us another hose. So we just dealt with the fresh water tank and water pump for the weekend. As if that wasn't enough drama, our water heater decided to break as well. WE HAD NO HOT WATER FOR THE REMAINDER OF THE TRIP! We were frantic to try to fix it ourselves, we asked everyone that had an RV but to no success. We thought that maybe it had something to do with the water being cut abruptly. We would learn later that the water heater control unit had bust. Check out this blog entry to see how we resolved that puzzle.
After a nice breakfast and a handful of mimosas we headed over to the pool area for some sun and fun. The pool area is great. They have the bathhouse off to the side (which we would use that weekend because our water heater broke) and the main pool area had of course the pool and during lunch-time they serve lunch and thirst quenching cocktails! They even have a cute little Spanish looking fountain that they filled with rubber duckies. Manny loved this!!! We had mixed our own drinks before he headed out to the the pool. We rode our bikes to the pool and were there in no time. Frank and Steven were already there getting some sun and we spent a couple of hours swimming, sunning, and making new friends. Lunchtime came by and we decided to try their hamburger and some drinks. We sat with Frank, Steven, and the Hamam boys: Brian Newsome and James Miller. The Hamam boys were offering massage treaments at the sauna, but we didn't get a chance to try it their skills out. Next time!
The burgers were not the best, but at least we had those drinks! At this point we were really buzzed and Frank gave us a tour of the property, which is huge! Frank basically comes to visit Vitambi Springs every weekend lol. So he knows it well. It was more like a tour/hike that we went on. And of course it was in the nude! The hike was amazing. You can really get lost in how massive the property is. Frank knew his way around the property and took us to the old abandoned Eckerd Home for Wayward Boys. It was very interesting going through the over-grown camp and seeing the bunk beds, the kitchen, and outdoor amphitheater. If you get a chance check this out. It's super interesting!
After our hike we invited Frank and Steven over for dinner since we had some burgers left over that were WAY WAY WAY better than what we had at the pool. We told them to meet us around 700pm gay standard time. Steven and Frank went back to their room to get a little disco nap in, and we went to the lodge to check out the live demonstration of all the leather play with the South Florida Minotaurs. They were showing off their whips and different play styles while I was getting massacred by a million mosquitos and anything that could bite (insects not people)! Our bartender friend Michael, was being saran wrapped and hung on the outside patio. He looked like a blue dirty angel. After we saw that, and Manny took a selfie with him as one does, we headed back to cook dinner for the boys!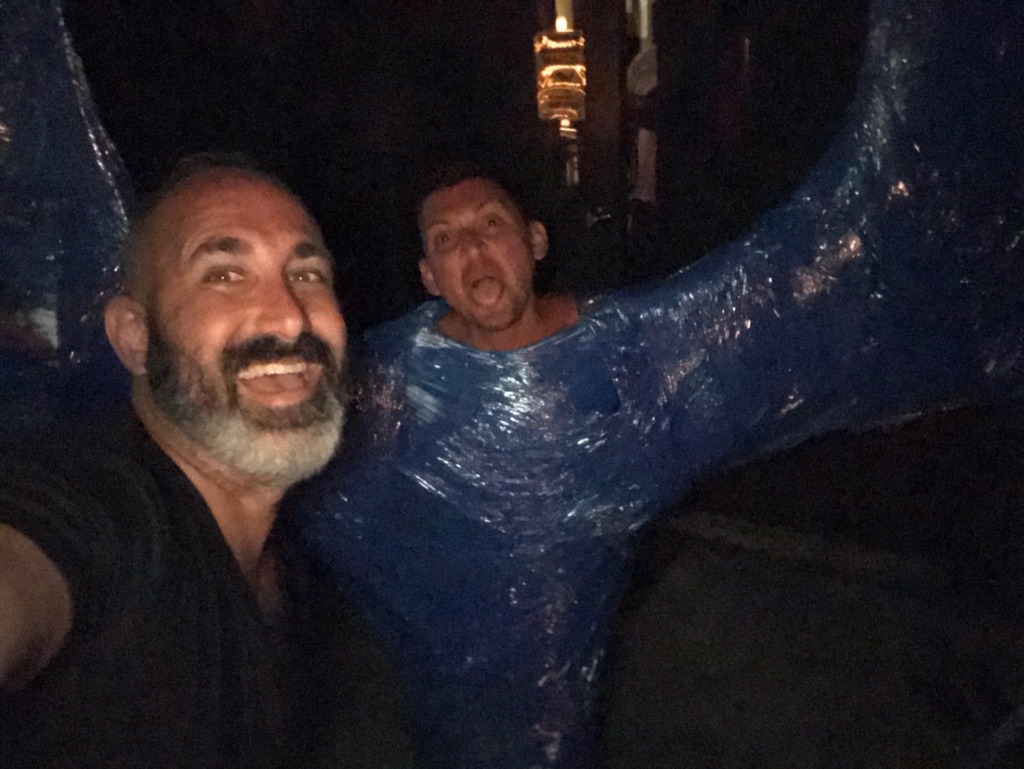 Dinner was great and everyone enjoyed the burgers. The boys had told us that someone said there was a gator swimming in the lake in front of where we parked the RV. After dinner Steven went for a smoke and to try to find our gator friend. There was no sight of him. After dinner and some drinks we naturally headed over to the lodge and the bar for more drinks! Because why not drink some more! At the bar, Manny and Steven started playing strip pool. You know Manny was a little tipsy/happy when he agreed to play. At the end of the game Manny won, so of course Steven was buck-naked around the bar. Michael came by with a shot for Steven, but I ended up drinking it because it was fireball. Like I needed more alcohol.
After naked pool, we played on the Nintendo Wii that they have hooked up in the bar towards the back. We played Wii bowling, which is my game. I think I won but at this point we were so drunk that I can't remember. Then we moved on to gigantic JENGA!!! We played a bunch of games and the bar started thinning out because the Minotaurs had an after-hours party in another building, the Hanger. It was getting late so we dropped off the boys at the barracks, where we took a tour of the place.
Before going home we were going to check the Minotaurs party, but from the outside we couldn't tell if there was going to be 100 people in there or if it was empty since it was so late. We chickened out and decided to go home to our trailer. We should have gone in just to see how it was! James had told us they had a pool full of cooling little gels that was awesome to dive into. NEXT TIME FOR SURE WE ARE GOING IN!
Sunday morning we had some breakfast at the trailer and started breaking up camp. We were going to the lodge to checkout the Omelette guy who comes on Sundays, but Manny really wanted to get going since he has a long day at work Mondays! So we never did try it on this trip. We were going to leave the RV there for storage, but Johnnie scared the shit out of me with his stories. He said that a lot of the wild critters try to get in your camper and it can fill up with mice, rats and other things. He also said that if it rains a lot there could be a chance for flooding inside. So we took our baby back to Miami, housing it at Manny's ex-wife's house temporarily. And we were determined to find a permanent spot for our baby. The idea of having our RV 1.5 hours away was also hard. You always want to be able to have it close to you in case you want to do some maintenance, visit, or whatever. So back home we went with our baby.
We had an amazing time at Vitambi Springs Resort. They really are family and we vowed to come back here in two weeks. In fact we booked it before we left! That weekend would coincidentally be Manny's 41st birthday! Check out the gallery below so you can see how much fun we had at Vitambi. If you find yourselves visiting Vitambi Springs, tell them the RV Bears sent you!