This was our very first time at Key Largo Kampground! Manny's coworker Juan recommended the campground. He'd been camping there using tents for a while and thought we would really enjoy it. Our friends Laz and Vanessa, from NeckSwag fame, surprised us by renting an RV for the weekend and renting across from our site with their doggies. We were so excited to explore this new campsite with our friends!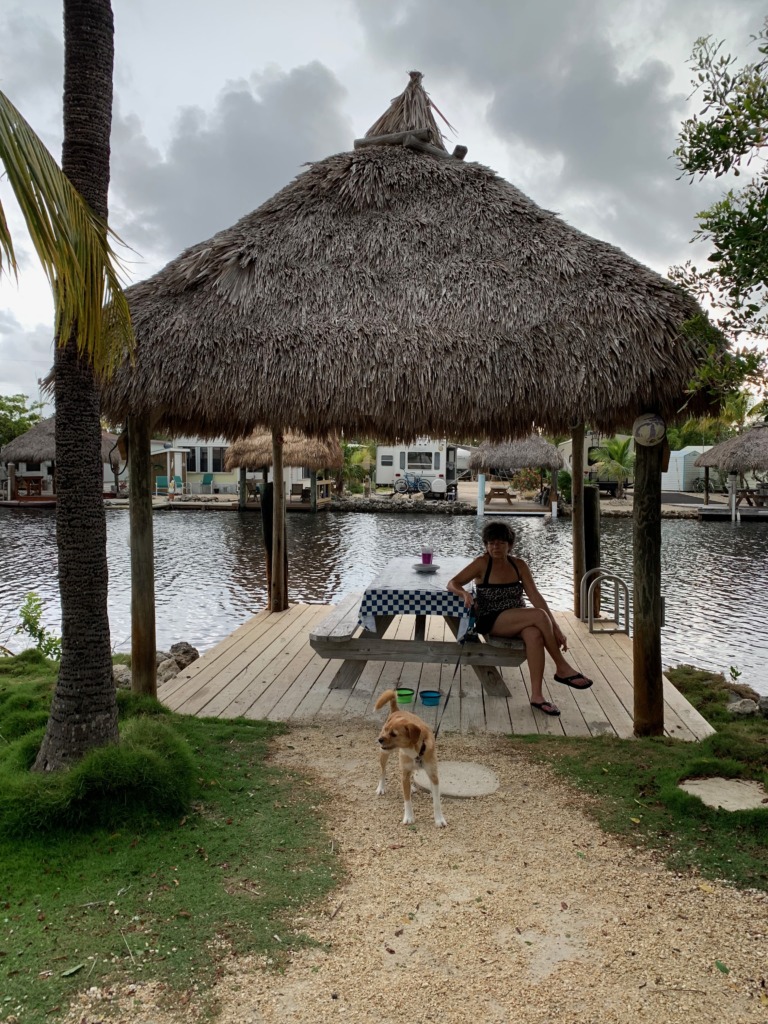 The campground was very nostalgia-camping looking. It was hidden away off the main road down the keys on the Overseas Highway. The place was amazing. We pulled up to the security house and checked-in. While we were driving down to our site we noticed they had a very nice pool towards the entrance of the campsite. The sites themselves were pretty big. Very ample to set up your camper and we rented the premium sites backing up to the water. Each site had a thatched hut with a picnic table. There was also a ladder to have direct access to the water. We even saw little jellyfish swimming around. It was incredible! The water sites form a U on the map. On each end of the U there are little beaches and we were very near the right-hand side beach.
Since it was our first day and we had driven from Miami we decided to do an easy burger cookout on the grill that night while we setup shop. Manny was a bit stressed out about this trip because it was raining before we got there, but as soon as we got there, the rain cleared up.
The only issue with the site as we were about to find out were the mosquitos and the biting bugs. We were next to the water and the mangroves. The mosquitos and bugs left us looking like contestants from Naked and Afraid. That part was not fun and only added to the stress. Note to self, when we come back to this campsite, pack lots and lots of mosquito repellent. LOTS!
Saturday morning we were expecting Manny's kids, Jessica and Paola to join us. Together with Laz and Vanessa, my mom, and Miss Mona, we were going on a pontoon adventure together. In case you are wondering a pontoon boat is just a floating party. The boat we rented from Sand Dollar Boat Rentals through Groupon had the capacity for 10 people. We had some breakfast at the RV park and drove over to the marina for our adventure. We packed the snacks, sandwiches and cooler with beverages and we were off!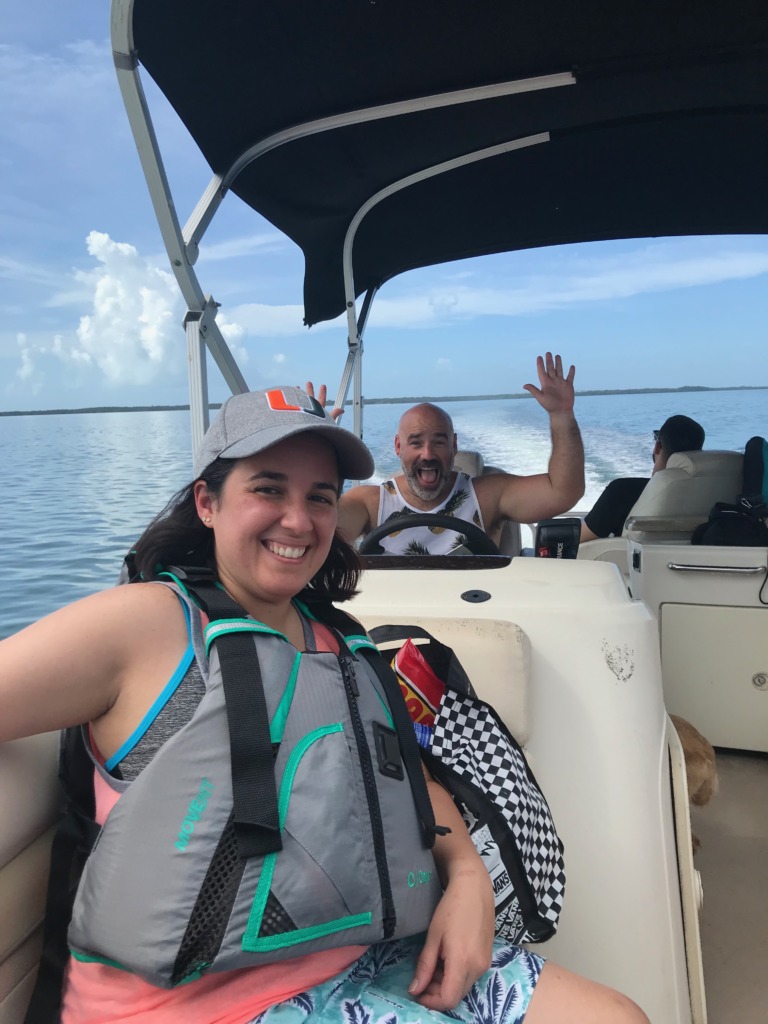 We had the rental for the whole day and while we had a general idea of where we wanted to go, Short Key, we got a little lost along the way. The rental people gave us a quick tutorial on the GPS and they sent us on our way. I give credit to Manny because he took over the role of captain of the boat like he'd been driving it for years! Even though he was a little scared, he never showed it. I even got to take control of the captain's wheel for a short while. It was awesome!
Along the way of course Manny had to jump into the ocean. Anytime there is water, you can bet money that Manny will end up in the water with his swim trunks or fully clothed, it does not matter. We finally made it to Short Key and when we got there the water was literally 3-4 feet deep. It was wild. As luck would have it, we convinced my mom to come out into the water and try it, and as she got out it started pouring rain very hard.
The rain eventually subsided and Mona even got to swim some in the ocean with Manny… not that she liked it AT ALL! After a bit in the water we decided to call it quits for the Key and we headed to Gilbert's Resort, which is a favorite of ours. We docked the pontoon at Gilbert's with the help of the staff and we headed to the restaurant for some appetizers and drinks. The food was yummy and the drinks hit the spot! They have a little beach at Gilbert's and we spent some time there in the beach before we headed back. When we headed back Lazara took the helm as captain.
We cruised for a while and returned the boat to the marina for the day. We were so quick in returning the boat that I think we didn't pay for the gas. They never asked us for money, so I guess we got lucky!
For dinner that night we had prepared a churasco BBQ for everyone. We had a very special surprise for Vanessa since it was her birthday weekend. While they got ready for dinner, we transformed the tikki area into a a Hawaiian themed birthday party complete with Lei and ornaments! Even Mona got Lei'd.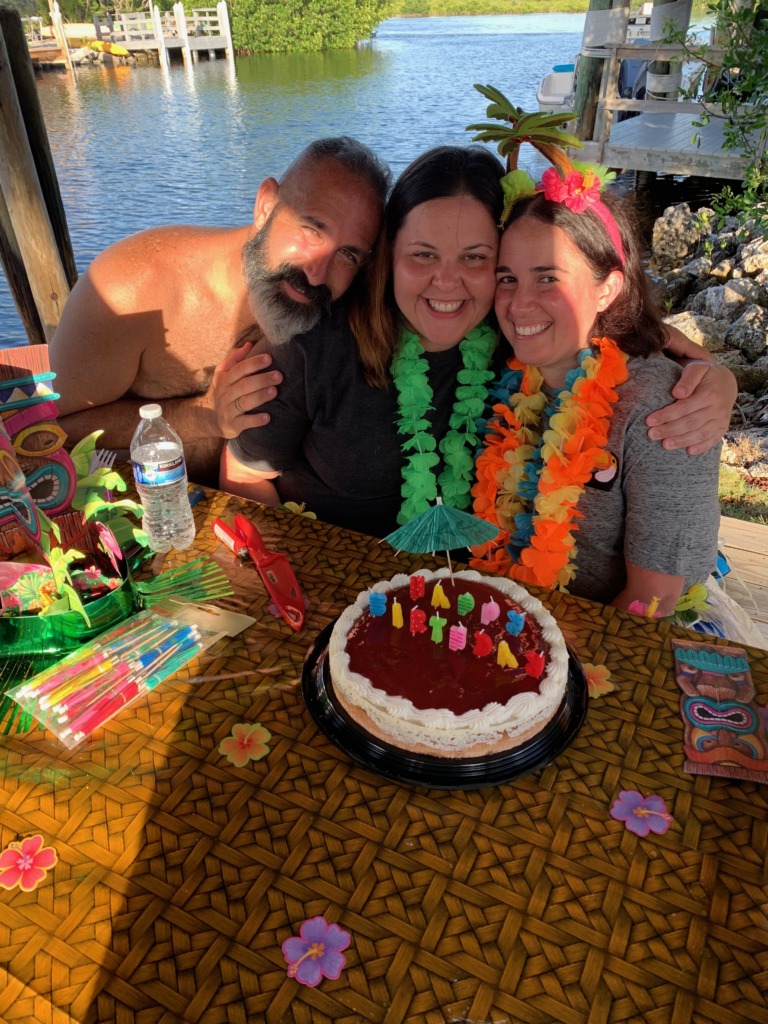 Later on in the night Juan, his wife, and kid came to visit. At this point I don't think we had any more blood left but that didn't discourage the mosquitos. They were intense. It was a long day and we were off to bed pretty early Saturday.
We woke up Sunday and made our goodbye breakfast. Manny was stressed as usual because it was time to go and break up camp, his least favorite thing to do! The only good thing about breaking down this camp was that by now we had tons of experience so it went by quickly, and the campground was about one hour away from home so that is really nice. There is nothing worse than being tired, having to break up camp, and then driving for hours to get home!
We all had a wonderful time at Key Largo Kampground and we agreed that we would come back real soon… with a lot of mosquito repellent! In fact we already booked it again for the end of July!