It was time for another adventure, this time we were off to Beverly Beach Camptown. We were very excited for this one because it was the first proper beach camping that we did. For this trip we took the moms and my cousin Iris, and her daughter, who is my god-daughter, Karen. Of course Miss Mona was also in the mix! She wouldn't miss it for the world. We went during Easter Weekend and we were also taking the opportunity to unofficially celebrate Manny's birthday, which was technically going to be two weeks from our camping trip. Beverly Beach Camptown is located between St. Augustine to the north and Daytona to the south on the beach town of Flagler Beach. We had never been in the area and boy were we pleasantly surprised!
It was a four and a half hour trek from our home in Miami to the campsite. As luck would have it, when we started loading up the RV it started raining! It never fails right? We didn't let a little rain spoil our action-packed weekend though. So we wrapped it up and started on our way. As we got close to the campground we started seeing the town of Flagler Beach. There are beautiful homes lining A1A as we approached the campground. There were a bunch of cute restaurants all around overlooking the Atlantic Ocean. There was a bit of construction on the road leading to our camp ground, but luckily Beverly Beach Camptown had no construction when we went. ???!
We pulled in to the campsite and proceeded to check-in. We were very impressed with the site itself. It was split in two by A1A. The east side, where we had our reservation, was directly on the ocean, while the other side had cheaper cabins and rv sites for rent. The place we really well kept up and the general store/registration area was really nice. They had a a pretty large general store actually. We checked in and soon Manny was backing in to our spot. He was a little nervous about backing up the rig, but since he's been towing our baby he's done an amazing job of it. As we were setting up camp we were taking in the beauty of the site. Literally through our kitchen window you can see right to the ocean. It was magical. We quickly leveled the RV, set up camp, and headed to get some lunch because we had not stopped anywhere and we were starving!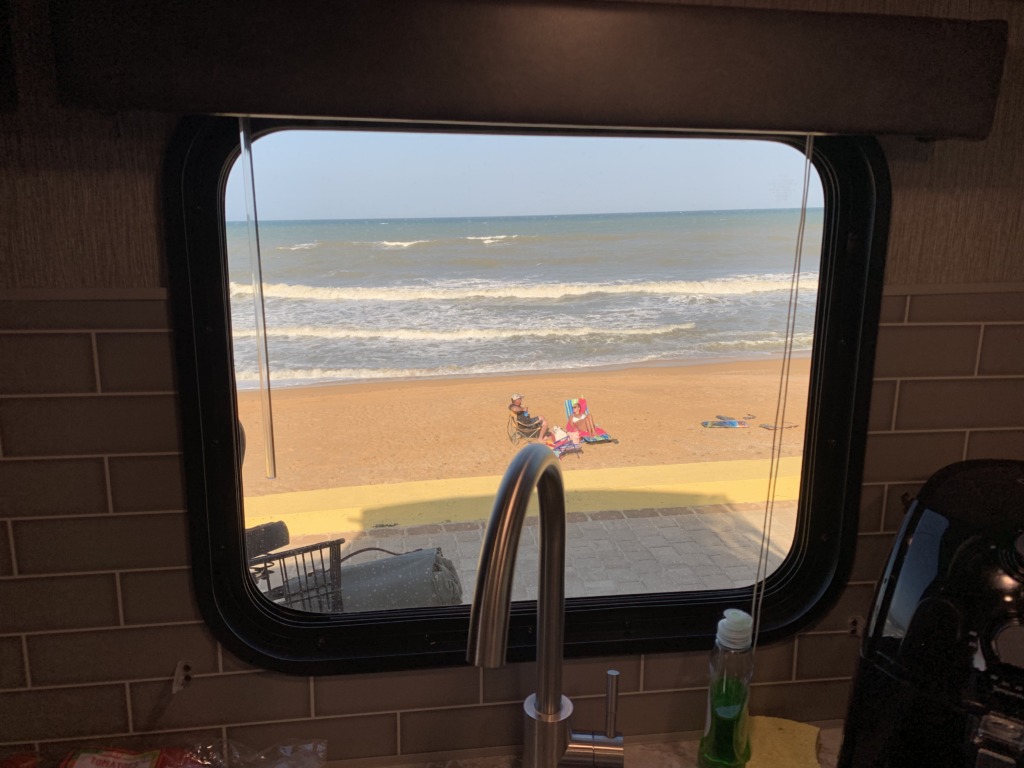 We pulled up to Johnny D's Beach Bar and Grill. They allowed pets outside and of course we had Miss Mona so it was a match. We all had some beers and some food and soon we were on our way back to the camp site. The campsite as a whole was breath-taking. The only complaint that we had is on the beach-side they cram those RV sites in, and the picnic side of the RV faces the picnic side of the RV next to you. So you are forced to see your neighbors which kills PRIVACY!
After we had lunch and set up everything, we had to check out the beach. We poured some wine and took some pics along the beach. It was still April and the weather was still a bit cold, but the beach was beautiful! We were literally yards from the ocean and from inside our trailer you can hear the waves crashing. If that's not paradise, I don't know what is! The beach had a lot of waves and was very choppy that day. So we didn't really enjoy the water as much as we wanted to!
As we settled in to the campsite we instantly made friends with Trace and Jeremy who had an RV near us. They had a daughter who became instant friends with Karen. It's funny when we make new friends at these camps because we always get a little nervous around non-gay campgrounds. We always wonder what the people will think of Manny and I. To the credit of all the campgrounds that we've stayed at, we've never ever had a problem. Quite the opposite really, people have always been super inviting! As the day was drawing to a close, Manny started up the BBQ for dinner and Trace and Jeremy joined us for some drinks. We planned out all the meals for the weekend, and for the most part, we stayed on track. For dinner Manny made some delicious pollo asado chicken from Trader Joes, our favorite grocery store.
We started drinking and more drinking with Trace and Jeremy and they quickly realized that we were gay and were totally cool with us. At some point during the drink fest, Trace's brother showed up and joined our little party. We had to call it a night at a certain point because we were dead tired and drunk! And we wanted to save our energy for the next day.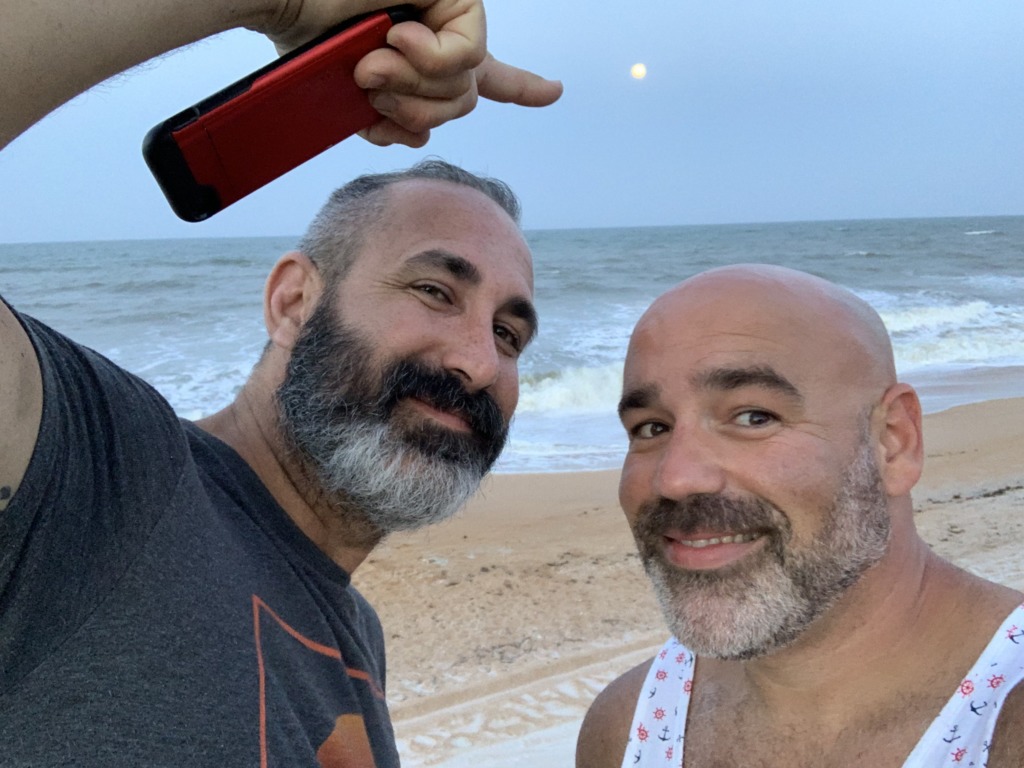 The next morning we woke up early to prepare breakfast. This was a treat because the picnic table literally overlooked the ocean. Today was an exciting day because Arlet and the family were going to come down for lunch and to hang out with us and check out the RV! So everyone was very excited. Unfortunately mother nature had other plans! Our phones started blazing with severe warning alerts for tornadoes and not soon after that, Arlet texted me that they didn't know if they would make it. I told her, it's Florida, it will get real nasty and then it will blow over ?️☔?️. They originally were coming for lunch but in the end they decided to come for dinner and give the storm some respect and room to pass.
Speaking of the storm, we were in the middle of lunch. We had some churrasco which was so delicious! Manny was cooking them up on the BBQ. We sat down to eat and in the middle of lunch we had to grab everything and go inside and pull the awning in. The wind picked up, it started raining. The sky was dark. It got pretty ugly. We managed to finish eating and Karen and her new friend were stranded inside the trailer with us. They did a couple of dance and singing performances while we waited out the storm. Soon the storm was over and everyone was back outside enjoying the day and the beautiful sounds of the ocean.
I forgot to mention that while we were doing lunch, or sometime before that, our site neighbors showed up in a Class A. They were a nice family from Jacksonville. The only downside to Beverly Beach Camptown was that you are directly in the view of your neighbor across from the picnic table. It was a little awkward at first going about our latin party. Luckily, they were super cool and we even shared some food during our lunch cookout.
So the weather finally got better, and right after the crazy storm, the beach looked calmer than it had been the day before. Go Figure! Arlet told me they were on their way and we started prepping for their arrival and dinner. Since it was Good Friday, they didn't want to eat meat, so we were ready with some mahi-mahi burgers, salmon burgers, and even veggie burgers that I had bought at Trader Joe's. The crew finally got to the campsite, and it was so exciting to see everyone!
It was the first time that Arlet met Miss Mona, and she brought her a treat that she quickly devoured! We all said our hellos and then we gave them the grand tour of the RV, which they hadn't seen before. We then settled down over drinks and started getting that grill ready for dinner. Arlet and crew even met our neighbors because they are from Jacksonville and Arlet lives there now. The BBQ was a hit and the salmon and mahi-mahi burgers were an even bigger hit! Arlet brought some pies for dessert, so we had that and some cupcakes that we had picked up. Of course we made some espresso on my beloved Nespresso machine.
I wish Arlet could have stayed longer, but it was getting late, and they had to go to their brother's house near Tampa the next day. So we said our goodbyes. I didn't realize it until the next day, but we never took group pictures together! WHAT A SHAME! We finally started settling down for the night, enjoying the now-calm-beach and the sound of the waves. It was an early night for us because we were up so late the night before and we were EXHAUSTED!
We woke up Saturday to a beautiful day. The beach was calm, beautiful, it was just like a postcard. The only thing off was that the water was still pretty cold. We vowed we would come back to this campground sometime in the summer to really enjoy some quality beach time. Manny started prepping his usual breakfast but we had a surprise for Karen today. Little did she know that Jorge, Madelyn, and Javier were on their way to spend the day with us! They booked a room in a nearby hotel and would be spending Saturday and Sunday with us. When they got to the campsite it was such a nice surprise for Karen.
We quickly set up breakfast, we pulled the picnic table from an empty site to make a double table, and had an amazing family breakfast with the beach as a beautiful back drop. After breakfast the kids went to go play by the ocean and sand, and we put the chairs in front of the RV facing the beach so we could all relax. Jorge, who is an avid fisherman, had his heart set on fishing. He never caught anything that day, but boy did he try! Around lunch-time we cooked some apple sausages as an appetizer and we shared it with our neighbors since they were so cool with us the day before with the cookout. For lunch we then had some burgers and some left over churrasco which was all delicious.
We tried to go into the beach again after lunch with the Moms. The waves were a little too rough for them so they didn't last long in there. They got nervous and out of the water they went. The water was still way too cold but we made the best of it. After a day of fun and sun, we decided to go out into the city to explore the beach town and try some of the local cuisine. We settled on Oceanside Beach Bar and Grill. It had great reviews and they allowed pets.
We got to the restaurant and it would have had a beautiful view to the ocean, unfortunately, they were doing heavy construction on the road between the restaurant and the ocean, so it was a bit rough. We also got eaten alive by like 1000 mosquitos! We did meet the owner of the restaurant. She was super nice and was showing us pictures of her son who took over the business (and was very hot) and how he had married a cuban.
We ordered some drinks, had some appetizers and everyone ordered their food. The food was alright. I forgot what I had because it was good, but it wasn't memorable. I should have ordered something else, but what can you do. We wrapped up dinner and headed back to the RV park. Javier was going to stay with us, but in the end he wanted to sleep with his mom and dad so they left for the hotel. The next day was Easter and it was our last day at Beverly Beach Camptown. How quickly time flies on when you are relaxing in paradise. Late at night before we went to bed I was emptying out the gray and black tanks, when I found our neighbor who was so drunk, he couldn't even hobble over to his RV. So I helped him over to his site. It was pretty funny. I have no idea why he was hanging out by our septic tank area!
We woke up the next morning and did our usual breakfast spread. By this point Manny has become the RV chef to rule all chefs! He never cooks when he's at home, but when he's at the RV he becomes: the RV CHEF! After breakfast I was tasked with getting the kids together and having them help me take Miss Mona for a lonnnnnnnnnnnnng walk. While I did that, Manny, Madelyn, Iris, and the Moms stuffed all the easter eggs and hid them all over the RV and the site.
When we got back they were surprised with baskets and off they went on their Bevery Beach Camptown Easter Hunt! It was so cool! I took a video of the whole thing, which is in the gallery. We honestly had such a magical stay at Bevery Beach Camptown. We knew we were going to do the Easter festivities so we had gone to the office in the morning to extend our stay by a half day (it usually costs half the price of a full day reservation). After we wrapped up the easter egg hunt, it was time to wrap things the campsite up. It was rough leaving paradise. We were tired and exhausted and we had to clean everything up and then get on a 4.5 hour trip back to Miami.
While we did that, Jorge and Madelyn took Javier and Karen to St. Augustine. We never got a chance to do a day trip, but the next time we come to this RV camp we are definitely coming in summer to enjoy the beach more, and we will spend one night in St. Augustine which is 30-40 minutes away! WE ?? OUR STAY HERE AND I KNOW WE WILL BE BACK REAL SOON!
As always click on the gallery button below to check out all the wonderful memories we made at Beverly Beach Camptown!