Manny had to work the 4th of July which was a friday this year. At his work he only gets about three holidays off, everything else he has to ask for PTO. He was also originally on call that weekend, but he traded with a coworker. Since he traded his overtime he told me to book the 4th of July weekend. I quickly called over to Vitambi Springs and they reserved a spot for our RV.
Our friends Steven, Arnie and Frank and Frank's partner rented a cabin. So we knew at the very least we'd have a good time with the Vitambi Jenga Club/ Naked Hiking Group. This was our first time hanging out with Arnie in Vitambi and boy did he make it fun 🙂
I didn't work so while Manny was at work I got everything ready and all I had to do was wait for Manny to get home and take a shower and we were off to Clewiston. As we were coming into the campground, we saw a rabbit running around. He was too quick for me to catch on camera, but we would see a ton of wildlife this trip.
As I registered us at the front with Martin, Manny went to the bar to get us some drinks with our favorite bartender, Michael. There is no better way to start a gay glamping experience than with a couple of cocktails! While I was checking in with Martin, we bought some ice for our cooler and we showed Martin the RV Bears site! He loved it. After checking in, we dashed over to our site and set up our camp.
During this camping trip Manny wanted to relax since he had been through a hellish week at work. So we didn't plan menus or buy too much food. We of course brought tons and tons of alcohol but we were going to rely on the Vitambi Kitchen to keep us going for most of the trip. This time, while we set up, there were no bugs and we set up in record time. At this point we were starving and a little buzzed so we headed for the lodge to grab some dinner.
We had lasagna for dinner at the lodge and as quickly as we finished dinner, we headed over to the bar area, they are in adjacent rooms, and said hello to everyone with some welcome cocktails, or three! This is where we spent the night friday drinking and having fun with our friends. Did I mention drinking? Somehow Arnie found his way into the costume storage for the campsite and he emerged in a little fairy costume that stole the night. We named him the fairy godmother of Vitambi Springs. We headed over to our RV for the night. As we were settling in, Arnie opened up our bedroom door and showed up for the afterparty!
We woke up, made some Rumchata shots, talked for a little bit and then we ended up passing out. I'm not sure how Arnie got home but he did. We woke up the next morning a little hung over but it was ok, because we were not planning on cooking breakfast. We went over to the lodge and had some breakfast to start the day right.
After breakfast we headed back to the RV to get our pool stuff together. We put on our swim trunks, grabbed our towels, and of course mixed some pretty heavy drinks to lounge by the pool. We met a lot of new people by the pool that day while we were hanging out with the gang. Blake was a super cool new friend that we met who was living in Naples and is a nurse.
For lunch Frank and the crew invited us over to their cabin for BBQ pork sandwiches. We went to the trailer and brought some chips, hummus, and salsa to contribute to lunch. After lunch was over we headed back to the pool but everyone was cranky and tired. It also started raining so we decided it would be a great opportunity to go back to the RV for some SIESTA time!
We woke up to Steven writing on Manny's dirty car that dinner would be at 6:30PM. They invited us to dinner which was lasagna. We had eaten lasagna the previous night but we weren't going to be picky. We were hungry and lasagna is lasagna! We brought over some dessert to share for dinner and we had a great time. After dessert we headed back to the RV to get ready for the night.
As we were on our way to the bar, we saw a baby armadillo. I didn't get to take a picture of it but it was so cool! So far we have seen a rabbit and an armadillo. So this was definitely an animal lover's weekend! We ended up of course at the world-famous Bongo Bar at Vitambi Springs. World famous because it's the only bar at Vitambi! They were playing the L R C game (Left RIght Center game) which I had never played before.
They quickly explained the rules and the game was off. The prizes were awesome. I didn't win anything but I wanted to get the Fucking Adorable Coloring Book! It looked like a lot of fun! Since it was 4th of July weekend, we went outside to experience the huge bonfire they made and the fireworks. It was an amazing display and we took tons of video that you can check out in the gallery.
We went back to Bongo's Bar and a new friend at the bar dressed up in a bear furry outfit and we snapped the now iconic picture of him for the RVBears site! That night we took our new friend Blake back to the RV to do some Rumchata shots 🙂
We went back to the bar to continue our drinking rampage! At this point I think my liver was crying for a break but I couldn't hear it. On our way to the bar we saw an Owl super close to us! It was amazing. It didn't seem scared of us at all and I did manage to take a bunch of pictures of the owl! It felt like someone was planting all these animals during this trip! It's the most wildlife we've seen there! It was magical!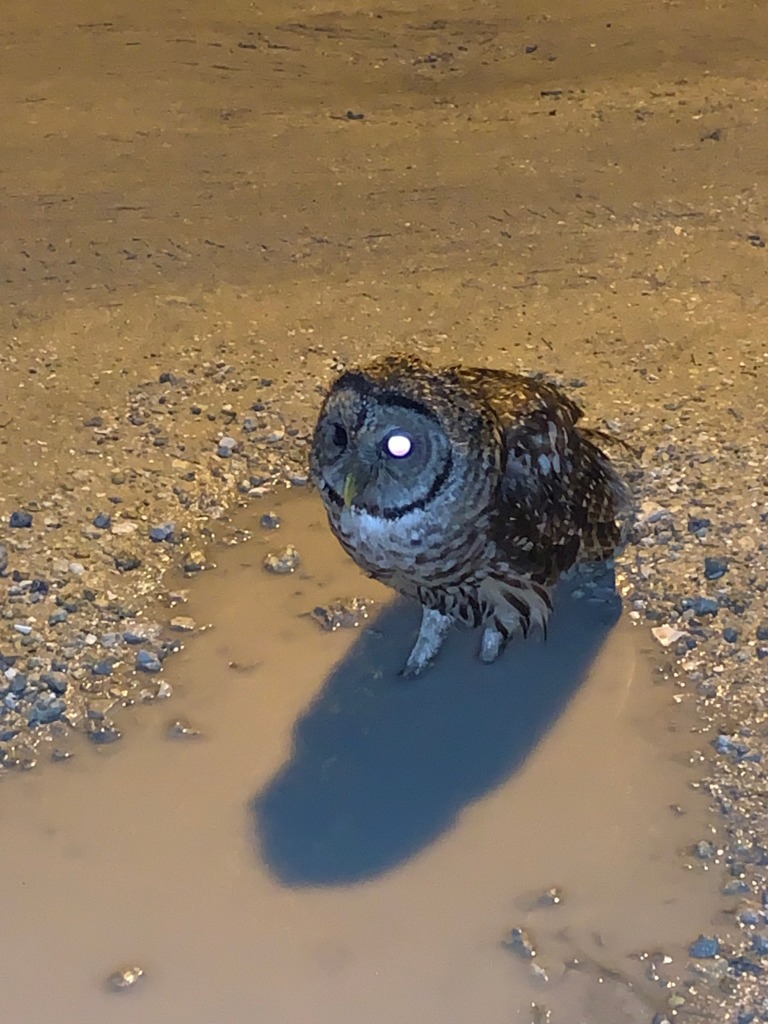 Sunday morning we woke up unable to drink anything other than mimosas. We headed up to the lodge to have some omlettes from the famous Omlette chef! They were delicious while we were eating them, but we both got stomach pains when we went back to the RV. I'm suspecting it's more to do with all the drinking that we did the night before and less with the delicious omlettes.
When we got back to the RV we broke up camp pretty quickly and were pretty sad to go. We had a great weekend with our old and new friends! Whenever we are sad that we have to leave we always remember that the campground is only two hours away from us and we will definitely be back soon! What a great way to spend the 4th of July weekend! We really had a blast.