We were very excited for this RV resort. Manny and I love the Keys and this is the first campsite that we brought the moms and Miss Mona to! The Keys are never cheap and renting out a spot at this Resort was not cheap, but man was it worth it! I worked an early shift at work the Friday we left so that I could leave early and meet Manny, the Moms, and Miss Mona at Jessica's where our RV was parked. Manny was a little stressed when I got there. He was getting everything together on his own and getting the RV hooked up to the truck. This time around we bought tons of food at the grocery store, because we had planned to cook most of our meals at the resort. After everything was packed up and ready to go, we were off to the scenic highway leading to the keys. We won't mention the traffic getting there since this is a paradise destination.
Sunshine Key RV Resort & Marina is part of the Encore RV Resorts network. We had booked the resort through their website which was super easy to use. On our drive down to the keys on reservation day, the staff called us to ensure that we were coming and to let us know the hours that the registration office would be open and the procedure for registration if we arrived after hours. The whole staff at the resort was great!
Sunshine Key RV Resort had been devastated by Hurricaine Irma. The resort took the opportunity to build the whole property up again from scratch and they did an amazing job. The sites are very compact, but all the pedestals were brand new and the whole place felt super clean and immaculately new (because it was).
We had about a three hour car ride to the resort and we made the best of it. We had the music pumping, the moms and Manny singing the salsa hits, and Miss Mona taking a nap by my feet. As we approached the resort, it was getting towards the end of the day and the resort was easily viewable from the highway. It takes over the entire west side of the key and it was a beauty to behold. As we went in to the registration area, it looked like a lobby of a Key West hotel. We were impressed. We registered our site, paid the balance, and we were handed a packet with all the information on the resort. They had wifi but it wasn't free, and we weren't looking to pay!!! But they told us it was super fast if we did buy it. They told us about a company that offered golf cart rentals as well. We didn't opt for this option on this trip because we were there for the short weekend, but next time we are definitely getting this!!!
The resort itself is like a small city. Most of the area is taken up by the RV sites which all have a picnic table and you have enough space to not feel like you are on top of your neighbor. The spots are tight but manageable. There were a couple of cabins sprinkled around the property which were super cute, and you can rent those out if you don't want to bring an RV or if you have a large party and need overflow relief. There is a gas station outside of the entrance which is actually the general store for the resort. They had a marina that looked so inviting. If we had a boat we'd definitely have used the marina! The marina store sold bait and fishing supplies.
Behind the registration area was the pool. The pool looked brand new and beautiful. It had tiki hut areas for families to sit around while you are outside of the pool. We didn't get to use the pool at all during the weekend because we had Miss Mona, and pets were allowed everywhere except the pool deck. Doggies are allowed on the beach which was a really nice perk. Across the pool there was the community center which had poker tables and they were stocked with tons of board games. We were here for such a short time, so we didn't get to use this either. If they had slot machines, my mom would have been here 24/7!
In between the pool and Marina, they had two tennis courts which looked brand new as well. As we left the registration area we were told we would be met by a staff member who would escort us to our site. As we followed the staff member, we saw the shuffleboard area and the doggie ? park area. We finally reached our street in the park, Parrotfish Ln. As we pulled into the site, we were so excited to see that the site was a pull through site. So we didn't have to back up into that spot!
As we set up camp, we were getting super hungry and it was getting late. We decided to look for a restaurant to have get some grub. Even though RV Chef Manny had tons of food to make, we were all tired and no one wanted to get out the grill and start prepping and cooking. I did a quick search on the BringFido app on my iPhone and found Kiki's Sandbar Bar & Grille. The BringFido app is great if you have a dog because it tells you of hotels, restaurants, bars, etc that are nearby that are pet-friendly.
Kiki's Sandbar looked very cool. They have a tiki hut bar, they have a second floor which probably has beautiful views during the day, and they have a little sandy beach area. We sat around the main bar under the stairs to the second floor. Every time people went upstairs we got sand in our food, lol! The food was kind of mediocre for us. We ate it because we were hungry, but it was nothing to write home about. The bar was just fine though, and we did have a couple of mixed drinks to make the food taste better! Miss Mona even made some new friends by the bar. There were lots of people there with their pets.
After dinner we headed back to the campsite to unwind for the night. We hung out a while outside our trailer before we headed inside to get ready for bed. We let the moms sleep in our queen bed in the private bedroom, and in the living area we set up our inflatable mattress which always fits perfectly in that space (Cuban Style). We didn't sleep in the sofa or the dinette, which both fold out to a bed, because we don't both fit in there. So air mattress it was. In the middle of the night, as she always does, Miss Mona woke me up to go pee. She never wakes up Manny, or at least, Manny pretends like she doesn't wake him up!
I was half asleep but I managed to grab her leash, grab Miss Mona and make my way outside without waking up the whole trailer. When I went outside, it was an out-of-this-world view. The stars were so bright and full in the sky it looked like I was looking at a Van Gogh painting. I wanted to take a picture with my phone, but the result didn't do it justice. I wanted to wake everyone up to show them, but I know better! So Miss Mona did her business, and we went back to bed.
Saturday morning came and I woke up early to take Miss Mona for a long walk. There was so many people out and about walking their dogs. Miss Mona was enjoying herself tremendously. We walked all the way to the beach area, and this part was so cool. The beach area, which allows pets, is right by the highway bridge. The water was so shallow and so clear it didn't look real. I could see fishes swimming in every direction. I walked back to camp after taking a couple of pics, anxious to let everyone know how cool the beach area was, and also because I was ready for breakfast!
When I got back to camp, everyone was awake, and Manny and I started getting things ready for breakfast. Manny was the RVChef all weekend. He whipped up all the meals and had a great time doing it. We ate like kings that morning. We had scrambled eggs, croissants, croquetas (cuban breakfast item), and most importantly mimosas! After our yummy breakfast, we cleaned up camp and we all decided to check out the pool area. We walked around and took a tour of the facilities and eventually came back because the moms were tired of walking and the day was hot.
This is when the golf cart would have come in handy. They mentioned at the front desk that they rent them out, and next time we are here we are definitely doing this. We then decided to check out the beach area. From our site to the beach was a bit of a walk, and the moms were not about to do all that walking. Manny ended up taking us to the beach area in his truck. Even though technically we were not supposed to park the truck anywhere other than our site. But the security was cool.
After a while at the beach we headed back to the RV to get our lunch going and to change into our bathing suits to go to the beach after lunch. We had some burgers on the grill that RVChef Manny was cooking up, and we had some beer, chips, macaroni salad, and potato salad to go with it. It was a picnic feast!
When we made it to the beach area after lunch we all headed straight to the water. We found out that Miss Mona did not like the water at all! She was all good running around the sand until Manny brought her into the water. Even though she reached and didn't have to swim, she did not want anything to do with it! She was traumatized!
We walked pretty far out on the beach and it was still very shallow. The water was still cold (cold for South Florida) since it was still March. But once you got used to it, it was amazing. The water was so clear we saw schools of fish and we even saw a barracuda!
After the beach fun, we all relaxed on our camping chairs under the shade that our awning provided. We also had a couple more beers! By this time sunset was about 50 minutes away. We decided to walk towards the aptly named, Sunset Pier to watch the sunset. Everyone was making the trek that way, and as you can see from the blog post main pic, the view was breathtaking. As the sun set we took so many pictures that I thought the memory on my phone would max out!
The minute the sun set, the mosquitos and other biting insects went N-U-T-S. And when I say crazy, I mean biting like they do on the show Naked and Afraid! We didn't hesitate, and quickly got the hell out of there before the mosquitos ate us alive. We walked back to our camp and Manny and I got our bikes and headed to the general store to pick up some ice that we needed and a coaxial cable since we had free cable as part of the site rental.
By this time it was dinner time and the RV Chef, Manny, made some yummy ribs and chicken kabobs we had bought at publix. Manny marinated the ribs which were delicious, while the chicken from publix had no flavor at all!!! We ate like kings again and then we settled for our last night there. At this point we had wished that we had booked this RV resort for more time, but you know how it goes, the more fun you have, the faster the time flies!
The next morning we wanted to take our time with breakfast and breaking up camp so we opted for the late check-out with the registration office. We had an amazing breakfast again, and we drank the last bit of the mimosas. Since we opted for the late check-out, we hit the beach ONE LAST TIME before we left! We then had enough energy to break up camp. This was our second time breaking up camp, and we had full sewer hookups this time around, so everything was a lot easier than our first camping experience having to go to the dump station.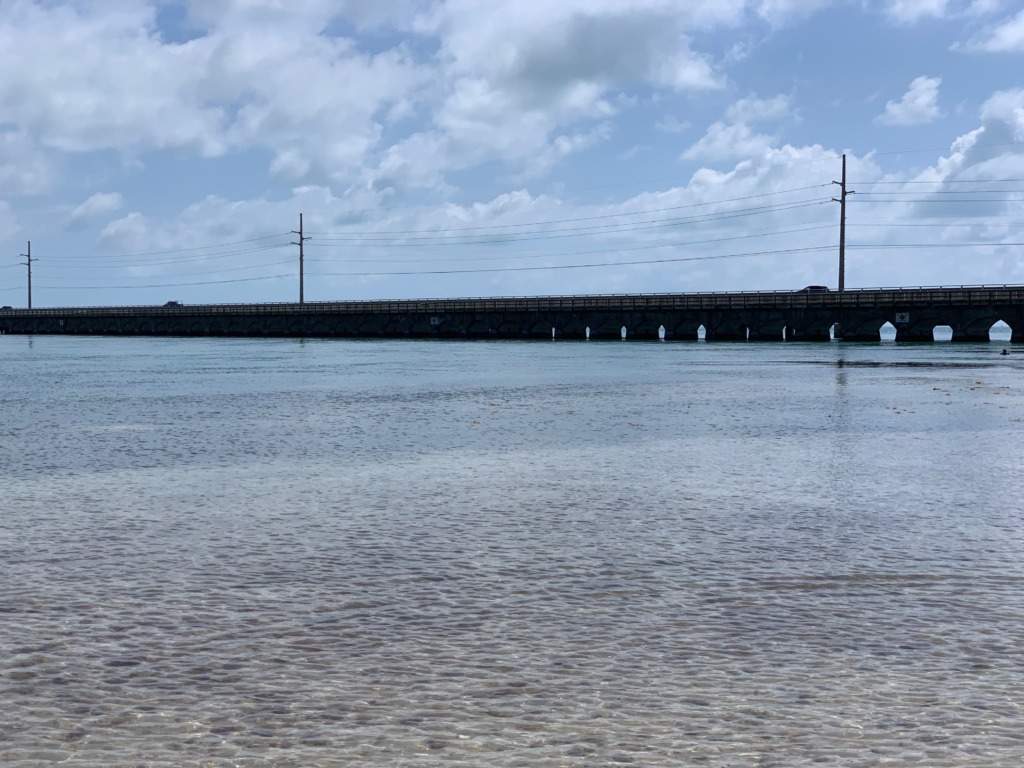 Soon we were on the road back home. We all really enjoyed this RV Resort. Everyone had a great time and we all really wanted to stay. The cool thing about the resort is that it's about 30-45 minutes from Manny's sister house that she's building in the Keys. We vowed to come back soon, but this time we'd rent golf carts and possibly borrow Maria's smaller boat to go out on the marina. How amazing would that be!
Check out the gallery by clicking on the button below. We took so many pictures of the RV resort and as you can see from the pictures, we had a blast!