Finally, the time had come to drive to Ft. Myers, pick up our Dutchman Coleman Lantern 245RK from Camping World, and zoom off to Sawmill Campground. Yes you read that right, we booked a campground on the same weekend we were picking up our RV! We had invited our friend Ricardo to come along for our first camp experience with our new RV. Ricardo came to our house and left his car behind and we all left in Manny's truck. Before we hit the road, we had to pass by the liquor store and pick up some alcohol, after all how can you celebrate a new RV at a gay camping ground without alcohol, RIGHT?! After a hellish week of dealing with Camping World's financing department, I was ready to sign the paperwork and drive off with our new baby.
Our sales guy, Tom, met up with us when we arrived. We had to do some last minute tidying up like providing proof of insurance for the bank etc, but Manny and I could definitely feel the finish line creeping closer. Tom had arranged for one of their employees to show us around our new camper and give us the complete tour. They had the whole camper hooked up to electricity and water for a show-and-tell.
As you can imagine, there were a million things running through our heads as the employee was showing us all the features of the RV. He was running pretty fast through everything so it wasn't easy to focus on everything he was saying. We had seen tons and tons of youtube videos on how to set up camp and how to break up camp, but when you're in the thick of it, it gets REAL and you forget everything! I heard a suggestion on my favorite RV podcast, the RV Lifestyle Podcast, that someone should be paying attention while the other person records the whole process. This is so brilliant and I wish we had done it. But we managed.
After the whole show-and-tell experience, we headed back to the office where the sales closer was waiting to sign all the paperwork. He was extremely nice and helpful and even lowered our interest rate and payments a little more. I guess they got the hint that I had a rough time with the financing guy, Paul Graef, because they went out of their way to lower our interest rates a bit more.
As we signed our lives away, Manny had noticed that the spare tire that was on the RV was no longer there. Camping World had told us that Colemans don't usually come with one and that we were probably thinking of another model that we had seen. To rest our unease they gave us a $100 gift card for the Good Sam Store attached to Camping World. This was great because I love free money, but it makes you think, did we see a spare tire and they took it off when it was time to deliver the RV to us? We'll never know.
After all the signing was done, we shook hands and they had the RV hooked up to Manny's truck with the weight distribution hitch and all! But we weren't ready to roll out of there just yet. We had to hit the store next door to buy all the accessories that we needed, and boy did we have a list! We spent about $300 – $400 in that store, not including the $100 gift card that we had!!!
Our sales guy Tom, had told us that most people take the RV home and practice camping in their house to get everything ready. We didn't have time for that! We had a reservation for Sawmill Campground, so we needed to make sure we had everything we needed to go camping! We bought so much stuff I don't even remember what we purchased on Amazon and what we bought at the Good Sam Store. All I do remember, is that the most important item at the time, the Coleman Cooler, I had left on the floor next to the cart. The store had some issue with their credit card system being down, and in the middle of that insanity, I left the cooler on the floor. It was never scanned and never purchased! We didn't realize it until we were at Sawmill, which is funny now, it wasn't so funny then!
With a camper full of new supplies and a truck full of alcohol we were finally on our way to Sawmill! We didn't realize that it was Mardi Gras weekend when we booked, so their regular RV sites were all taken up, so we had to settle for their overflow section, the Kumquat area. It was our first time setting up camp and since it was the overflow area, we had electricity and water but no sewer!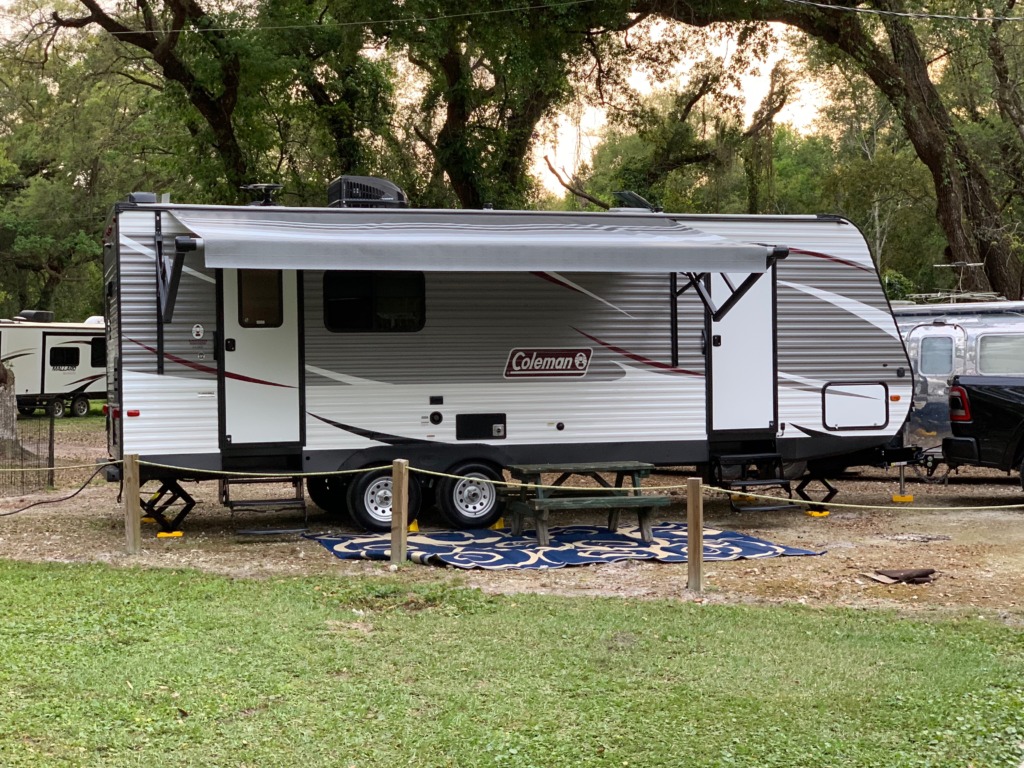 We were so excited to arrive. The Kumquat area was a little tight because there was an older Airstream positioned so that it was a little difficult for us to park correctly. Manny drove the truck and RV like he'd been driving his whole life and we got our baby into our first camping spot. We all got to work since there were three of us, and we quickly started to set up camp. For our first time, everything went pretty well except for some small rookie mistakes. It was late and we were feeling lazy so we never separated the trailer from the truck, lol. We also used the gray hose for the water line but it was brand new so no harm done. We had plans to stop at a grocery store to buy food supplies for the weekend, but we were so excited to get to camp, we never made it there. We decided that since we were at Sawmill for the weekend and it was our first camping trip with our RV, we would just eat at their pool restaurant, the Splash Poolbar and Cafe.
After we set up camp, we made some mixed drinks and had a walk around Sawmill. We drank a lot that weekend! You know how it goes, you are so excited about your new RV that you have a couple of drinks. Then you hit the bar and you have a couple more drinks! We were sitting outside of Splash having some drinks and some apps (thank GOD we ate something), and we met a fun lesbian couple that we chatted with for a while. After a couple of drinks we of course walked into the Woody's Bar, Night Club & Rec Hall since the lesbians said they were going to be there for bingo. I've seen many a drag show here, and let me tell you, they are GOOD!!! When we got there though, the bingo game was over and they were having a raffle for contestants to play Family Feud. I was called up and Manny was called up. Of course Manny gave his ticket to one of the lesbians because he does not like to be put on the spotlight.
We had a lot of fun and too much to drink. There is a theme here! We took a walk along the famous trails at Sawmill and then Ricardo went off to mingle with the campers. Manny and I called it an early night because we were so tired from all the excitement of the day (we had bought an RV less than 24 hours ago) and we wanted to save some energy up for Saturday.
Saturday night Sawmill put on their night-time Mardi Gras Parade. It was so cool because it seemed the whole community got together and really got into decorating. There was even a contest for best float, best golf cart, and best walker. Ricardo joined a bunch of guys, that we had met, on their float. Manny and I found good spots to see the parade. A great time was had, and we have tons of videos in the gallery section of the parade. It rained by the end of the parade, but that didn't stop all the fun.
After the parade we made our way back to Woody's. Outside they had a big 'ole Drag Show going on. So we took a seat by the picnic tables outside and started watching the show. Ricardo introduces us to his friends, Thomas, Ryan, Morgan, Mark and Co. from the midwest who had their 5th wheel parked for the winter at Sawmill. We made great friendships that night. During the drag show, we met up with other friends that we met who have a permanent residence at Sawmill, and we all went over to their place to do some shots! MORE DRINKING!!!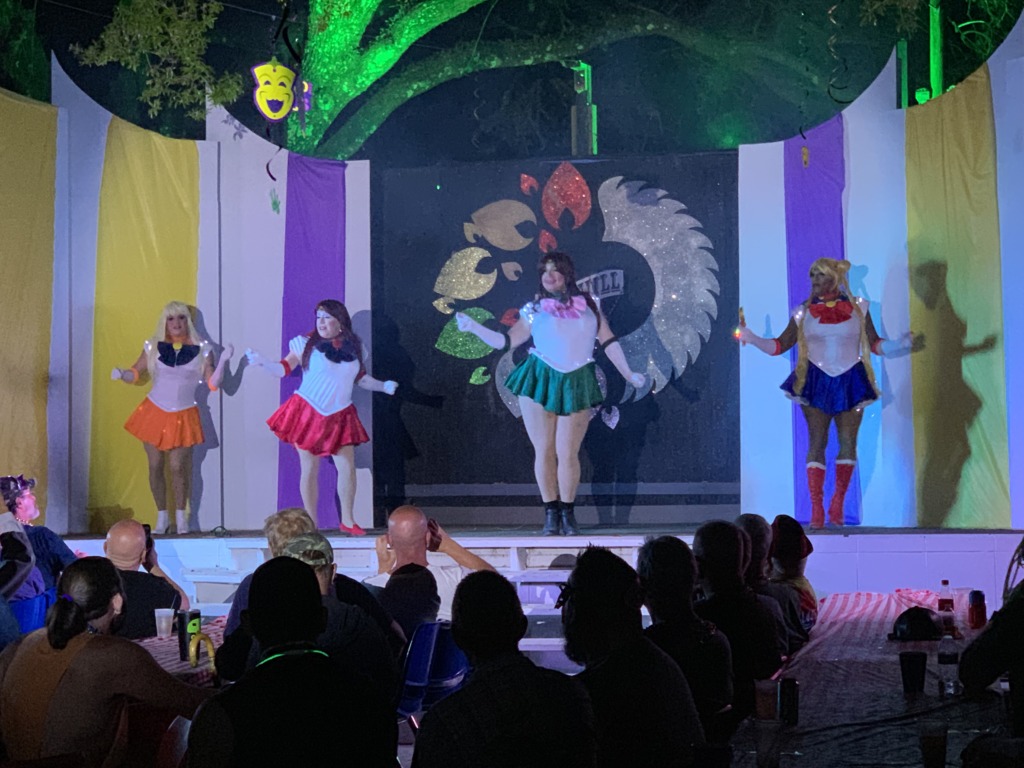 We were all pretty drunk at this point. So Thomas, our new friend, wanted to give us a tour of the trails at night, lol. We had a great time walking around a little buzzed. Thomas was showing us that all the "rest areas" in the trails had glow-in-the-dark tape so you can find your way in the dark. He had a flashlight and was "regenerating" the light as we went through the trails. Every time he recharged one with light, he would yell, "SAFETY FIRST!!!" As you can imagine we left there pretty quickly because the people trying to "take in nature" were starting to get annoyed at us.
After the trails we ended up back at Thomas' 5th wheel for even more drinks! Then we headed to Blade's Bar for some pool. There Ryan ended up naked, which was very hot, and Manny almost ended up naked as well. We also met up with Ace , the bartender who was very sweet and fun to be around ???. At this point we had drank so much we had no other option but to go to the Garage.
Before I write about the Garage, right outside of Blade's there is this statue on the ground of a pig. You wouldn't think anything of it, except that we saw all the guys go outside and pee all over the hog all night long. We asked our friend Thomas, "what the hell?!?", and Thomas explained that during lesbian week, the lesbians love to take pictures with the pig. They kiss it, hold it, pose with it. You name it. So all the guys pee on it on the weeks that it's not lesbian week, as a sort of hazing tradition. We cracked up at this and I had to mention it. I hope I didn't give the piggy secrets away. ???
Back to the garage. The Garage is the after hours space where anything goes ? ?️?️?️. We went in there with our new friends and we had a blast. I'll leave the details of what happened there to your imagination, because what happens at the Garage, stays at the Garage. We had an amazing Saturday at Sawmill. I had no idea how we were going to wake up Sunday and break up camp, especially since this was our first camp, and there was so much we needed to learn and do.
Sunday came quick and we had breakfast at Splash Poolbar and Cafe. Begrudgingly we then started to break up camp. We did pretty well, even though we were exhausted and hung-over as all hell. The last step in breaking down our camp and getting the RV ready to roll, was the step that we were all dreading. We had to head out to the dump station and empty out our two gray tanks and blank tank. Everything went pretty smoothly, but we were confused as to whether we should leave some water in the tanks when we drop the treatment packets for the black tank or not. Luckily, someone who was staying at the camp was walking by and he called a friend who owned an RV to ask. He told us to just leave a little bit of water in the black tank and drop the packet in there. It all worked out!
We wrapped everything up and drove the five hours back to Miami where we parked the RV at Jessica's, Manny's ex-wife's house. At this point we had bought the RV but we had no place to store it! We were going to store it at Vitambi Springs Campground, but we were so hung-over and tired that there was no way we were going to do that on a Sunday and drive back home. So we decided that we would store it at Vitambi Springs on our next trip to Vitambi, which we had booked in about three weeks in the future from this adventure.
We had an amazing weekend picking up our RV from Camping World and going straight to Sawmill Campground for our first camping adventure with our Dutchman Coleman Lantern 245RK. Check out the gallery link below for the pics and videos of the weekend.