The weekend before we visited Camping World in Ft. Myers, we had gone to the West Palm Beach RV Show. (Check out the link to read that blog entry). We had high hopes there, but we left empty handed. Manny and I both knew that with this trip to Camping World, we would not leave empty handed! This was both very exciting and it also made me feel super nervous!!! It was a two hour trip from our home, so we had plenty of time to imagine every possible outcome the day had to offer. This time around, we didn't bring the moms. They were still resting from all the climbing of RV stairs they did at the West Palm Beach RV Show.
When we got to Camping World we were excited by all the trailers on display. We quickly went inside and it looked like the Disney World for RVs. Reception told us to hang tight while they got a sales agent for us. A couple of minutes later, we were introduced to our Sales Agent: Tom Stivison. (If you find yourself looking for RVs at Camping World Ft. Myers, ask for Tom and let him know Kelvis & Manny sent ya). Tom introduced himself and asked us what we were looking for in an RV.
We knew exactly what we wanted and we had honed down our checklist even further from the West Palm Beach Show. Tom quickly made some notes, and we were soon riding around in a golf cart looking at different RV options. We saw so many different options that we started blending them all together. There was an RV which was a little bigger than what we wanted, it was 28 ft not counting the A-frame, but we fell in love with the layout, so we went back to deal it out with Tom. It turned out that to have the price point that we wanted to pay a month, we had to select something else. Tom showed us a used RV, which had a broken bathroom door (someone literally kicked or punched it) and it smelled like the black/gray tanks needed a little freshening up! He showed us this one because it was a fiberglass exterior which is more expensive. We had our hearts set on a new RV camper though.
We finally settled on the 2019 Dutchman Coleman Lantern 245RK. It was one of the early layouts that we liked since we were researching RVs on youtube. The interior accents and furnishings were all light colors, which made the space look even bigger. It has a separate entrance to the bedroom which we both liked. It also has one slide-out that creates a nice space near the sofa where we can lay down an air mattress when we have family/guests staying with us.
It showcases a rear kitchen which is really nice and spacious, and of course, the bathroom has the toilet outside of the shower area. This was something I really wanted. The bathroom area itself is pretty spacious. I would have preferred a shower door, but our rig has a shower curtain. You can't have everything! In the rear of the RV there is a queen bed (an RV queen bed, which is slightly smaller than a queen), which Manny and I both fit in comfortably. The dinette becomes a bed which is good for one medium-sized person, or two small kids. Finally the jackknife sofa folds out into a bed that's also good for one medium person or two small kids.
I have attached the specs of our rig below for those of you that like to read all the details on the RV. Just click on the floor plan below and it will open up a pdf with all the specs of our RV.
Here is where things got strange. I guess I wasn't used to how the financing process works for RVs. I'm used to buying/leasing cars and getting instant results. Tom, our sales guy, took our info and the price point we wanted to hit for the monthly payments. He said that since it was a Saturday, the banks were closed and they would contact us during the week to let us know the next steps. We were imagining shaking hands, signing pages of paperwork, and walking out with our new RV. THIS WAS NOT THE CASE!
I love, love, love negotiating and going at it with sales people. But this was new territory for me. I couldn't effectively negotiate because they had to get back to me once they heard back from the banks, and we live two hours away from Camping World. I did get them to throw in the weight distribution hitch for the price point that we wanted to hit. Those things can be pricey and we definitely needed it for the size of the RV that we were getting. So we basically had to make an appointment for the next week to pick up our RV, have a full tour of all the features, and sign all the paperwork. It was frustrating. And we had to do everything in blind faith.
The financing part of this whole process was very stressful. Out of the whole process at Camping World, I would give this 1 out of 5 stars. I can see why so many people told us to stay away from Camping World. Our financing guy, Paul Graef, contacted me over the phone to let me know that we had gotten everything we wanted! When I called him back however to get the details, the interest rate he had secured was insane. I don't know how many people they screw over with this scam, but I wasn't going down that road!
I guess they put pressure on you since we had booked the pickup of the RV for the next week. He was trying to make us nervous to settle on his rates. Magically, when I said NO, he all of a sudden found another bank and wouldn't you know it, the rates were so much better. It was very frustrating. If you do buy your camper at Camping World, make sure that if Paul Graef is your financing guy, that you reject the first couple of offers, otherwise they'll eat you alive with interest!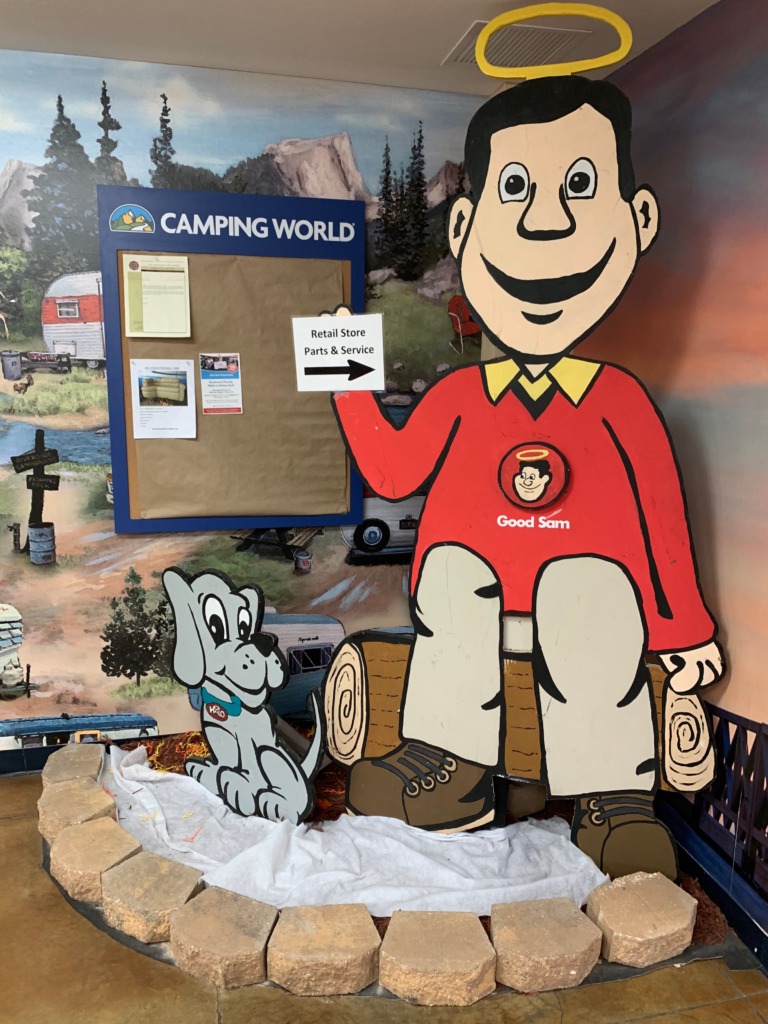 Before we left, we swung by the Good Sam Store that's attached to Camping World. Man that place is dangerous. They have every single accessory you could ever want, and they even have some you didn't know you needed! The cool thing is that if you buy an RV from Camping World, they give you a free membership to Good Sam. This is great because they have so many discounts across so many camp grounds and they also do road side assistance. As if that wasn't enough, you also get a 10% discount at the store located inside of Camping World.
Camping World really is the Walmart of RV stores. They have so many RVs at great prices and with the attached Good Sam Store, you can seriously do some damage. We decided however, to wait until the next week, when we had our hands on the RV to buy all the things that we needed. We had made a camping list on Amazon (which you can find on the blog below the Category section), where we listed everything we wanted for the RV. We held off on a couple of things because as part of the buying process, Tom, our sales agent, threw in the RV welcome pack. Among other things, the pack included: a sewer connector, water pressure gauge, a leveling bubble, and some packets to freshen up the black tank in between uses.
As we left Camping World, we wanted a little lunch because we were HANGRY! We decided to take a little detour to Vitambi Springs Campground before going home, so somewhere along the way we stopped at Buckingham Farms to get a bite to eat. It was a super cute farm with a restaurant inside. After we filled up on hamburgers and pie, we were off to Vitambi Springs. It was a gay campground that we had heard of, and they offered storage for RVs. We thought it would be great to check it out and have a look. If you are wondering, we bought the RV before we figured out where we would put it! It definitely did not fit in our house, so we imagined we'd park it at Vitambi Springs. It took us about an hour to get there from Camping World. We pulled up at the front desk at the lodge, which was beautiful, and we were met by Martin and Michael.
The guys were super friendly and welcoming and showed us a map of the place, which is huge, and circled where the RV storage area was. They told us to have a look around and check it out. We really liked the campsite and decided that we were going to have our RV stored here as soon as we got it.
On the next post, I'll detail the pick up process at Camping World, finalizing the financing, and pulling out of the dealership right to our first camp at Sawmill Campground!