The West Palm Beach RV Show was our very first RV show. We were both very excited for this one. We had stayed up several nights before doing our research on YouTube to see which RV layout we wanted. I had imagined a gigantic indoor complex with tons of RVs and tons of merchants selling cool accessories for RVs. That wasn't exactly how it went down.
The event was all outdoors. Even though it was February, the Florida heat can be intense, and we definitely worked in some exercise that day. They had very few vendors, but they did have aisles and aisles of RVs organized by the dealerships that were trying to sell them.
We took the moms to the event and we wasted no time in paying the entrance fee and hopping on all kinds of different RVs. It paid off to do our homework because we knew instantly what kind of layouts worked for us and we had a mental checklist of the things that we needed.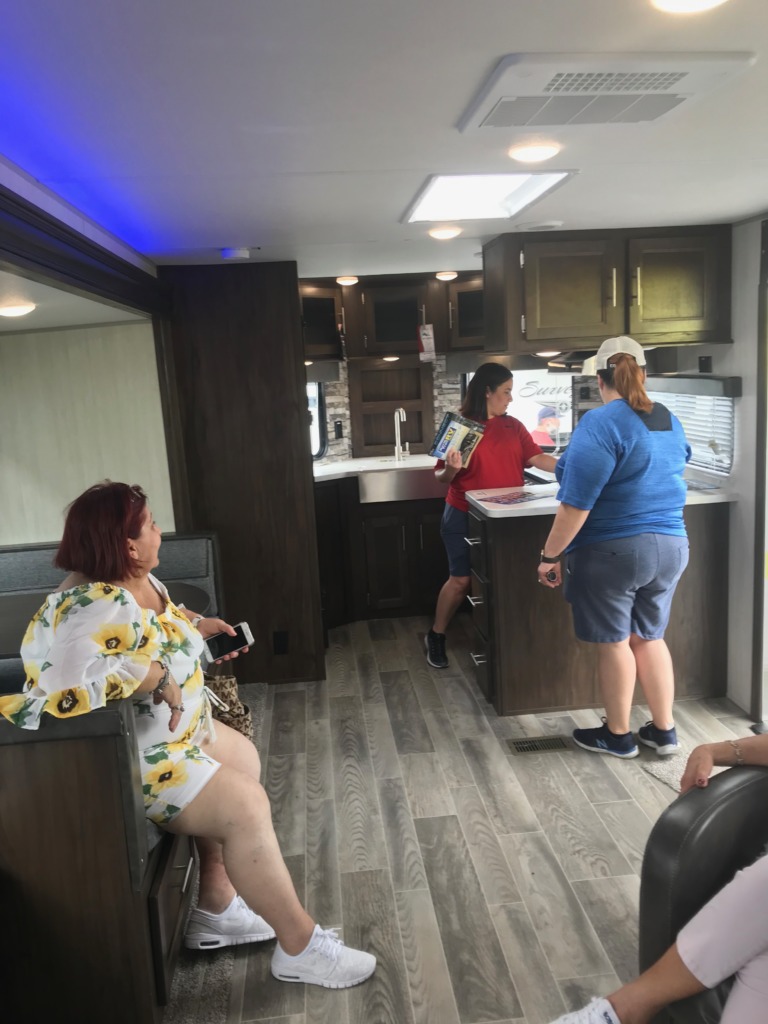 A funny thing happened about half way through the show. We were in this one trailer and we met this cool lesbian couple, we guessed they were lesbian because we didn't know for sure then. We chatted a while and Manny and I made a mental note to find the girls later on in the day and exchange facebook or contact information. We never did see them that day… but the story doesn't end there. We eventually became great friends and found each other again in a great facebook group called the LGBT RV Camping Group. Shout out to Lazara and Vanesa Del Cristo! More on that story later!!!
Everyone has a checklist of all the things that they are looking for in an RV. We knew we wanted something big enough to entertain our family and also small enough that Manny's Ram 1500 truck could pull. We also knew we didn't want a floor plan with bunk beds. Bunk beds are great for small children but we are all adults in our family, and two of us have claustrophobia issues. So that wouldn't work out. I definitely wanted a bathroom that had the toilet outside of the shower. Manny is pretty tall as well, so we needed a shower he would fit in comfortably. And speaking of toilets, as you can see in the picture, Manny has to test the toilets to see how "durable" they are!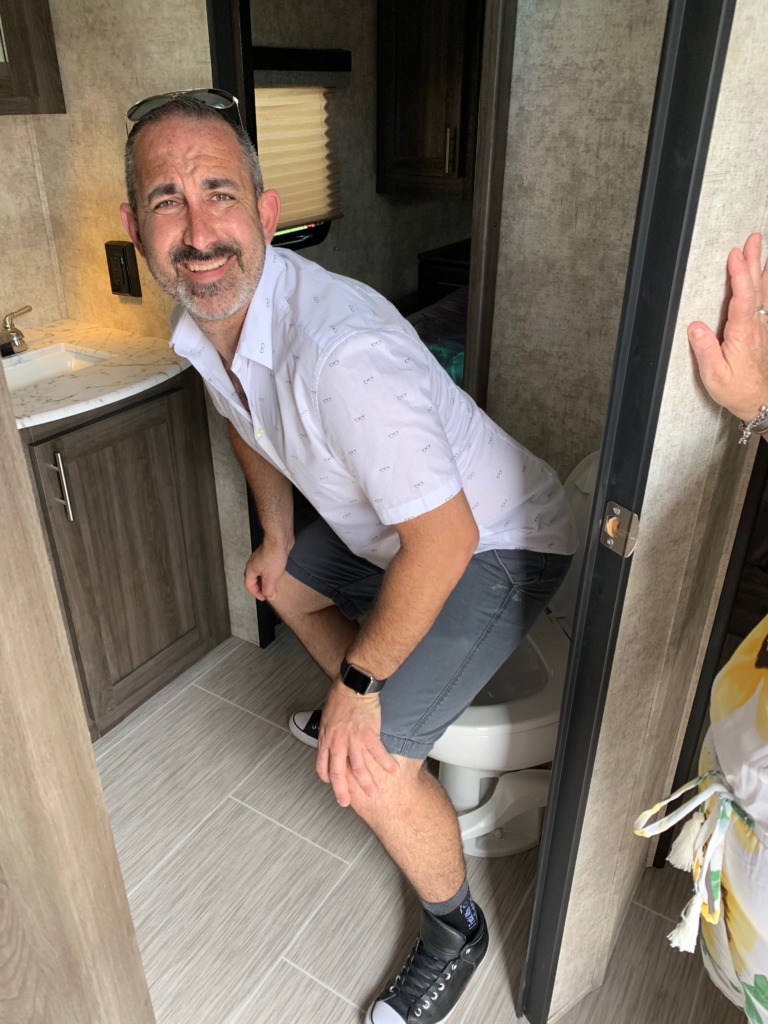 We had some personal favorites and our moms had their personal favorites too. It seemed that we all had different tastes as we walked through all the RV's on display. Of course we all agreed on liking the super expensive ones that were out of our budget! Isn't that always the case? We all did agree on this beautiful model t: the Forest River 274VFK. My mom sat down on the recliner which was next to a gigantic window and she said, This is amazing! We knew this was the RV we wanted to buy! It checked off everything on our list and we were ready. We flagged down one of the sales associated and tried to do a deal because everyone in our family LOVED this model. It was very nerve wracking because we've never bought an RV before and didn't know how it worked. The numbers the sales person threw at us were a bit too high and in the end we left empty handed. I was overwhelmed, Manny gave me a look like no it's too much money, and we were very green at the RV buying process. It wasn't our time to buy at that particular moment, and the pressure of doing it during the show was too much for us.